Barnett Shale Air Sampling Map Viewer
The Barnett Shale Viewer is the TCEQ's interactive mapping tool that displays air sampling around the Barnett Shale Geographical Area.

The Barnett Shale Viewer illustrates specific locations and the type of air quality monitoring that has been completed. Detailed monitoring reports from the samples are also available through the Viewer or the County List of Sampling Results.
The Viewer is updated monthly by the fifth business day of the month with data collected through the previous month. Associated reports may lag behind the Viewer because of time needed to analyze the data collected.


How to Use the Viewer
Instructions for using navigation tools
Terms and Abbreviations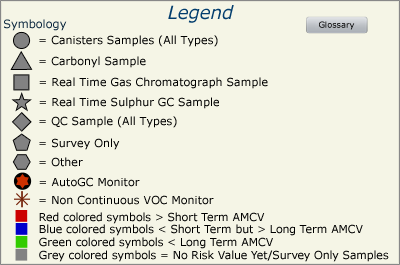 ACL
Air Control Laboratory (Number)
AMCV
Air Monitoring Comparison Value
AutoGC
Automated Gas Chromatograph
Automated Gas Chromatograph (AutoGC)
Every hour, this instrument collects an air sample for a 40 minute time period. After the collection is complete, the analysis of the sample begins in one module while the collection module has 20 minutes to prepare to collect the next 40 minute sample.

The AutoGC runs quality control samples two hours out of each day. This automated system operates continuously, theoretically 24/7. The target analyte list for AutoGCs contains 46 chemicals. Data from an AutoGC is available within a few hours of analysis.
Canisters Samples (include: Instantaneous/Grab Canister, 30-Minute Canister, 1 Hour Canister, 24 Hour Canister, and Stationary Canisters)
Canister Sampling
A method of taking a sample of air (not analyzing the air) that uses a stainless steel canister that has been scrupulously cleaned and is under a vacuum. The operator opens the valve on the canister, allowing the air sample to rush into the canister to fill the vacuum. When the canister is opened all at once allowing the air to be sampled over the span of a few seconds, we term this an instantaneous sample.

A controller can be put on the canister sampler controlling (slowing) the flow of air into the canister over a prescribed time, i.e. 30 minutes, 1 hour, or 24 hours. The samples in the canister are then analyzed on another instrument, typically a gas chromatograph (GC). The GC can be set up in a mobile laboratory or in the TCEQ's Austin laboratory. The target analyte list for this type of sampling contains 84 chemicals.

The TCEQ maintains a network of 24-hour canister sampling stations across the state. There can be a several-month time lag between the time a sample is taken and the data are finalized.
Long-term Air Monitoring Comparison Value (AMCV)
A level of an individual chemical in ambient air that people, including sensitive subpopulations, can be safely exposed to for their lifetime. They are set to prevent chronic health effects, including cancer.
QC Sample (includes: Quality Control (QC) Canister and Quality Control Carbonyls samples)
Short-term Air Monitoring Comparison Value (AMCV)
A level of an individual chemical in ambient air that people, including sensitive subpopulations, can be safely exposed to for up to an hour at a time. When evaluating data using the short-term AMCV, one must keep in mind the long-term AMCV. Some short-term AMCVs are based on the prevention of nuisance odor conditions or effects on plants.
Survey Only
There is no ambient monitoring data associated with this type of sample. A "Survey Only" symbol is used where the agency has conducted a survey of the site with hand held instruments and determined, there are no emissions present at that time or the emissions observed did not warrant additional sampling.
Configurations and Settings
Operating System: Microsoft Windows XP or later
Web Browsers:
Internet Explorer 6.0 and later
Firefox 2.0 and later
Browser Text Size:
Go to View menu > Select Text Size
Select Medium, Smaller or Smallest
Browser Settings:
Enable Pop-ups if necessary. A yellow bar may display just below the Menu Bar if pop-ups are blocked in browser. Right-click on the yellow bar to unblock pop-ups as prompted.
Troubleshooting
For general error messages: Refresh screen by pressing the F5 key on your keyboard.
If updated information is not visible in Viewer (only old information is shown): Clear the cache and cookies of your browser, as follows:
Internet Explorer 6.0 and 7.0:

Go to Tools >Select Internet Options >Select the Delete… button, in the Browsing history section.
Click "Delete files" and "Delete cookies" buttons.

Firefox:

Go to Tools >Clear Private Data…
Cache, Cookies and Offline Website Data should be checked.
Click Clear Private Data Now button (see below).
This interactive map of air sampling results is intended simply for ease of reference. As such, it does not include all qualifiers that may be associated with a sample result or the sample collection process. Additionally, it only shows the approximate relative location of the sampling point and does not represent an on-the-ground survey.