Texas Recycles TVs Program
For TV recycling opportunities, find the brand of your TV or look up options through the Recycling Leadership Programs listed below.
Find additional program information, including the 2013 Legislative Report.
2014 Manufacturers Reporting Results Update
Trying to recycle your computer? Visit www.TexasRecyclesComputers.org.
Find a TV Recycler
A | B | C | D | E | F | G | H | I | J | K | L | M | N | O | P | Q | R | S | T | U | V | W | X | Y | Z
Each link will take you off the TCEQ website and directly to a manufacturer's recycling Web page.
Link not working? Can't find your brand on the list? Search drop-off locations hosted by an RLP, call toll free 1-855-TV-Recycle (1-855-887-3292), or e-mail us.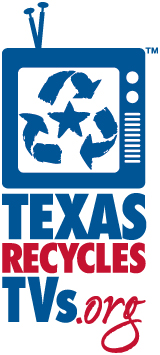 Brands
Manufacturer
A
Apex, Apex Digital
TMAX Digital, Inc.
Aquos
Sharp Electronics Corporation
Audiovox
Voxx International Corporation
B
Bang & Olufsen
Bang & Olufsen America, Inc.
C
ChangHong
ChangHong Trading Corp. USA
Clear Tunes
Naxa Electronics, Inc.
Contex
Sansui America, Inc.
Craig
Craig Electronics, Inc.
Crosley
Star Light Electronics Co., Ltd.
Curtis
Curtis International Ltd
D
Dynex
Best Buy
E
Element
Tongfang Global Inc.
Emerson
Funai
F
Funai
Funai
G
GoldStar
LG Electronics USA, Inc.
GPX
DPI, Inc.
H
Haier
Haier America
Hisense
Hisense USA
Hitachi
Hitachi America, Ltd.
I
iLive
DPI, Inc.
Insignia
Best Buy
J
JVC
JVC
K
KC
Silo USA, Inc.
L
LG
LG Electronics USA, Inc.
M
Magnavox
Funai
N
NAXA
Naxa Electronics, Inc.
NEC, NEC AccuSync, NEC MultiSync
NEC Display Solutions of America, Inc.
Nuvision
TMAX Digital, Inc.
O
Ocosmo
Sceptre, Inc.
Orion
Sansui America, Inc.
Back to Top
P
Panasonic
Panasonic Corporation of North America
Phillips
Funai
Polaroid
PLR IP Holdings, LLC
Proscan
Curtis International Ltd
Q
Quasar
Panasonic Corporation of North America
R
RCA screen sizes of 19" and larger
ON Corp US, Inc.
RCA screen sizes of 22" and smaller
Innovative DTV Solutions
S
Safe
Silo USA, Inc.
Saikyo
Sansui America, Inc.
Samsung
Samsung Electronics America, Inc.
Sansui
Sansui America, Inc.
SANYO
Panasonic Corporation of North America
Sceptre
Sceptre, Inc.
Seiki
Tongfang Global Inc.
Sharp screen sizes of 50" and smaller
Best Buy
Sharp screen sizes of 50" and larger
Sharp Electronics Corporation
Silo
Silo USA, Inc.
Sony
Sony Electronics, Inc.
Sunbrite TV Marquee, Sunbrite TV Pro Series, Sunbrite TV Signature Series
Sunbrite TV, LLC
T
TCL
TTE Technology, Inc.
TMAX
TMAX Digital, Inc.
Toshiba
Best Buy
U
Upstar
Upstar USA
V
ViewSonic
Viewsonic Corporation
VIZIO
VIZIO, Inc.
W
WeatherX
DPI, Inc.
Westinghouse
Tongfang Global Inc.
X
No current brands
Y
No current brands
Z
Zenith
LG Electronics USA, Inc.
Back to Top
Recycling Leadership Program (RLP)
Manufacturers established the following programs to offer at least 200 drop-off sites, events, or programs throughout Texas for consumers to recycle
any brand
of television. These recycling opportunities can be found at the internet links provided below.
| RLP Name | Participating Manufacturers |
| --- | --- |
| MRM Manufacturer Recycling Leadership Program (MRLP) | Best Buy, Funai, Hisense-USA, Hitachi America, Innovative DTV, JVC, LG, Panasonic, PLR, Samsung, Sansui, Sharp, Silo USA, Sunbrite TV, TTE, Voxx |
Texas Recycles TVs Program
New program rules are available at Title 30 Texas Administrative Code, Chapter 328, Subchapter J

. Under the new program, retailers, manufacturers, and recyclers must follow specific requirements to comply with the law.
Each manufacturer on the TCEQ list has, according to state law

notified the TCEQ that it offers a recycling program—free of charge at the time of recycling—to collect and recycle consumers' used television equipment.
Request FREE flyers and publication holders through our Take Care of Texas Publications page.
Results for Manufacturers' annual reporting
(Help with PDF):
The next legislative report will be available in 2016, but we wanted to provide an update on the weights collected through the manufacturers' programs in 2014. Manufacturers collecting a market share collected a total of 1,796,953 pounds of covered televisions. Manufacturers participating in the Recycle Leadership Programs collected 18,189,646 pounds of covered televisions in Texas. In total for the three years of television collections in Texas, manufacturers have reported collecting nearly 40 million pounds.