Rivers, Lakes, and Estuaries: Water Quality
Planning for, managing, and assessing the quality of the state's surface waters.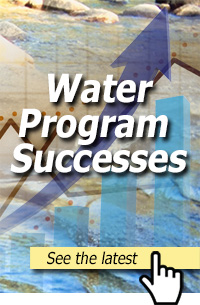 Preserving and Improving Water Quality
An overview of the TCEQ's program to define, measure, and manage the quality of the state's surface waters
Texas Integrated Report of Surface Water Quality
for Clean Water Act Sections 305(b) and 303(d);
biennial assessment state's rivers, lakes, and estuaries
Monitoring and Assessment

Data and Maps
Planning and Implementation

Return to top
Advisory Groups
Groups that counsel the TCEQ about implementing legislation, developing rules, forming policies and procedures, and implementing plans to improve water quality.
Stormwater and Wastewater Permits and Registrations

Stormwater permits govern water runoff from urban areas and some types of facilities. Wastewater permits and registrations govern discharges of used water from various types of facilities. These permits are issued to protect and sustain water quality in accordance with the state's Standards.

Return to top