Clear Creek: Volatile Organic Compounds
This is a completed project to reduce pollution from volatile organic compounds (VOCs) that were making it unsafe to eat fish caught in Clear Creek. Together, the adopted total maximum daily loads (TMDLs) and the approved Implementation Plan (I-Plan) are the road map to improving water quality.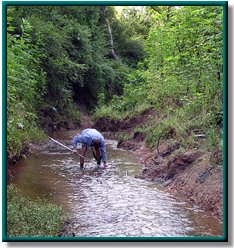 Clear Creek Above Tidal
See Also:
---
TMDL Home
TMDL Projects
TMDL News
TMDL Calendar
Counties: Brazoria, Fort Bend, Galveston, and Harris
Parameter: Volatile organic compounds
River Basin: San Jacinto–Brazos Coastal Basin
Segments: 1101, 1102
On this page:
Background and Goals
The Clear Creek watershed drains parts of Fort Bend, Harris, Brazoria, and Galveston Counties. In 1993, the Texas Department of State Health Services (DSHS; then known as TDH) advised people against eating fish from portions of Clear Creek due to elevated concentrations in fish tissue of two volatile organic compounds (1,2-dichloroethane and 1,1,2-trichloroethane) and the pesticide chlordane (covered under another TMDL project). These volatile organic compounds are associated primarily with chemical manufacturing. An abandoned refinery was identified as the source of VOCs in Clear Creek. The goal of this TMDL project was to reduce concentrations of contaminants in fish tissue to levels that constitute an acceptable risk to consumers.

Back to top
TMDLs and Implementation Plan
These TMDLs were first adopted by the commission on February 9, 2001. On June 14, 2002, they were revised to include minor clarifying language and adopted by the commission. The EPA approved the TMDLs on May 9, 2003, at which time they became part of the state's Water Quality Management Plan.
The commission approved the implementation plan on October 12, 2001.

Back to top
Status and Implementation
The consumption ban was rescinded in October 2001; the fish consumption use is no longer identified as impaired for VOCs. Concentrations of VOCs in Clear Creek have declined by more than 90 percent since 1993. The Brio Refinery, a Superfund site, was identified as a major source of VOCs to the creek. The refinery site is located along Clear Creek near the tidal boundary. Contamination at the site is being addressed under the federal Superfund program.
In 2007, the TCEQ funded an assessment by DSHS of fish captured from the creek that verified that VOC levels in fish remain at acceptable levels. Information on fish tissue advisories and bans in Texas can be found on the DSHS website . 

Back to top
For More Information
For further information regarding this project, please email tmdl@tceq.texas.gov and mention the Clear Creek VOCs project in the subject line. Or call us at 512-239-6682.

Back to top