Gilleland Creek: Implementing a Plan to Protect Recreational Uses
The goal of this current project is to keep recreation safe in Gilleland Creek by reducing bacteria levels. The adopted total maximum daily load (TMDL) and the approved implementation plan (I-Plan) combined are the road map to improving water quality in the creek.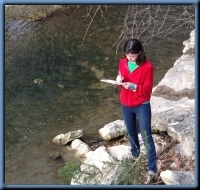 A volunteer collecting data in the Gilleland Creek watershed
See Also:
---
TMDL Home
TMDL Projects
TMDL News
TMDL Calendar
Watershed County: Travis
Parameter: Bacteria
River Basin: Colorado
Segment: 1428C
Project Navigation
On this page:
Other Project Pages:
Overview and Goal
Water quality testing found that bacteria concentrations are elevated in Gilleland Creek, located in northeastern Travis county. High bacteria concentrations might pose a risk to people who swim or wade in the creek. Swimming and wading are called "contact recreation" in the state's standards for water quality; the term refers to all recreation in which people are likely to swallow natural waters.
The goal of this project is to reduce bacteria concentrations to within acceptable risk levels for contact recreation.
Photos

Back to top
Get Involved
The TCEQ worked with a stakeholder group coordinated by the Lower Colorado River Authority to develop the TMDL and original I-Plan. In 2017, stakeholders revised the I-Plan, with facilitation from the Center for Public Policy Dispute at the University of Texas School of Law. Find out more about what it means to participate in TMDL projects. 
Partners
The organizations listed below are partners in improving the water quality in Gilleland Creek.
All of the links in this section exit the TCEQ website .

Back to top
For More Information
Please email tmdl@tceq.texas.gov, and mention the Gilleland Creek project in the subject line. Or call us at 512-239-6682.

Back to top